The Best of Loveland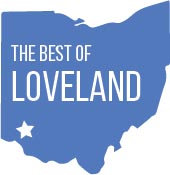 We love the Loveland area and our chiropractic patients, so we thought we'd share some of our favorite businesses in our community. If you have suggestions for businesses that you love, please let us know!

NRG Fitness: The trainers at NRG Fitness are well versed in many aspects of healthy living and help with getting in shape while avoiding injury.

Sherry Carmichael with High Energy Health and Wellness: Sherry will consult with you about making your home a healthier place to live. Her non-toxic cleaners are especially good for homes with children.

Dr. Peter Hill with PetCare Animal Hospital: Dr. Hill is the vet for the Newport Aquarium and luckily for the residents of Loveland he has a private practice just down the road on Loveland-Madeira Rd.