Why you need chiropractic care after a low speed impact
Auto accidents happen every day. Most of them are low-impact collisions. According to the Insurance Institute for highway safety the largest number of rear impact crash injuries occur when there is little or no vehicle damage. Shockingly, the Spine Research Institute of San Diego reports long-term complaints from 67% of people with only a 7mph impact!
Chiropractic care has been shown to be over 90% effective in relieving whiplash-associated pain. No matter how small a collision may be it's important to get checked early for signs of whiplash. Getting a chiropractic exam soon after an accident may be the difference between having no pain and having life-long pain.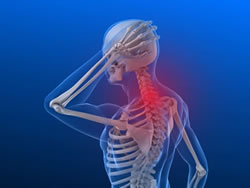 Over 50% people who are in a car accident have pain or disablity a year later if they had not undergone proper treatment. Getting a chiropractic evaluation within a few days of an accident is usually best, but even up to a year later can be beneficial in reducing neck pain, headaches, radiating arm pain, numbness and tingling. Please give our office a call if you or a loved one has been in an accident so we can determine if chiropractic care is appropriate.
Dr. Kauffman is a licensed chiropractor in Loveland Ohio and serves patients in the greater Cincinnati area. To find out more about your Loveland Chiropractor see http://www.kauffmanchiropractic.com