Back pain relief
Chiropractic care can often times provide quick relief of back pain, and can also make long-term lasting change. Call us today to start getting your life back. (513) 444-4529
Get relief, and get your life back!
You're probably here because you are in some sort of pain or discomfort, whether it's back pain, neck pain, headaches, sciatica or something else. You may feel that you can't do the things you want to do because of your condition. It may be affecting your work, your focus, or your home life. It's something you just can't ignore.
We have good news for you... we have helped literally thousands of patients get relief from their painful conditions and get their lives back. Many of our patients feel that the treatments they get here give them relief, but also affect the cause of their condition better than anything else they have tried. We would love the opportunity to help you this way as well.
We're so excited to work with you! If you are ready to schedule now, please call us at 513-444-4529. We can usually get you in within a day or two to start getting you back to health quickly.
If you would like some more information, the best place to start is to leave your name and email below for our free report called Pain Elimination: Step One. This report will give you a tremendous amount of tips and insights to quickly reduce pain and create better health. After you read through the report please browse our site for helpful videos, testimonials, and read about us.
Call our office at 513-444-4529 to set up your first appointment at our Loveland Chiropractor office. We're never too busy to help you!
---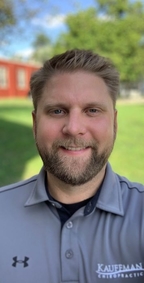 ​
Dr. Kauffman is a licensed chiropractor in Loveland, OH.
Patients travel from all over Cincinnati and the Southern Ohio and Northern Kentucky regions to see Dr. Kauffman.
From Google Users:
Nathan:
"Dr. Kauffman has helped my back and neck pain so much. Wouldn't go anywhere else!"
Amber:
"Dr. Kauffman carefully coordinated a care plan specifically for my needs during my pregnancy with my third child."
Tonya:
"Dr. Kauffman has helped me with migraine headaches for several months now. He is very caring and listens to you."
Jodi:
"Dr Kauffman is the best in the area. He is patient, gentle and informative about every aspect of your care plan. I will never go to anyone else. I have trusted him with every member of my family and all five of us agree that we have found the best in the business!"